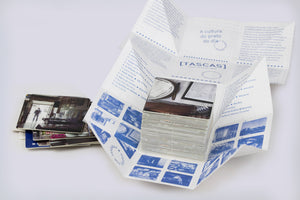 [TASCAS] PACK: Book + Memory
Enjoy our [TASCAS] pack with these two unique pieces, and discover the universe and histories around these places!
Through photographs, texts, and graphic essays, the book revisits the last five decades, where historically coal-stores evolved to taverns, cellars to eateries, and grocery stores to the tascas, which still play a central role in our daily urban experience.
The Memory game is an original piece composed of 21 double printed pictures, where each photographer shows us one "tasca" through a personal and artistic aesthetic of the chosen place. A remarkable memory game for all, to remember and also, not to forget.
AUTHORS | TITLE

Kiluanji Kia Henda, Délio Jasse | The keyboard
Frame Colectivo | Introduction [TASCAS]
Filipa Valladares | The Memory Game
Álvaro Domingues | After the fried birdies
Maria João Guardão | Das Flores
Patrícia Azevedo da Silva | Tasca© 2.0
Eduardo Brito | Tascas' Stories
Maribel Mendes Sobreira | Istranzu: Toward an aesthetic of the tasca
Inês Brasão | Alchemy is a labor of the hands

PHOTOGRAPHERS | TASCAS, Bairro

Valter Vinagre | Tasca do Gordo, Belém
Nuno Andrade | Zé Pinto, Benfica
Francisca Veiga | Tasca dos Canários, Bairro Alto
Catarina Botelho | Adega dos Arcos, Misericórdia
Augusto Brázio | Tasquinha da Isilda, Mouraria
Maura Grimaldi | O Petisca, Campolide
Vera Marmelo | Maçã Verde, Santa Apolónia
Luísa Ferreira | Tasca do Zé Russo, Marvila
Céu Guarda | O Cantinho do Alfredo, Campolide
Maria do Mar Rêgo | Pomar de Alvalade, Alvalade
Joana Hintze | As bifanas do Afonso, Santa Maria Maior
Tiago Casanova | O Cardoso do Estrela de Ouro, Graça
Luís Pavão | Cantinho do Aziz, Mouraria
Margarida Correia | O Cartaxinho, São José
Beatriz Banha | Restaurante das Flores, Misericórdia
Pauliana Valente Pimentel | O António, Mouraria
Pedro Letria | Adega do Solar Minhoto, Alvalade
Paulo Catrica | A Castiça,  Lumiar
Joana Linda | Zé dos Cornos, Mouraria
Rui Dias Monteiro | Marco do Correio, Mouraria
Caterina Osório | Tasca do Jaime, Graça