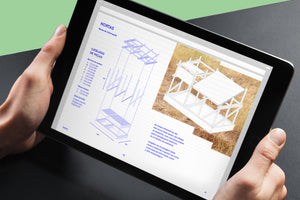 E-Book – Quinta do Almaraz
This ebook, available here for free download, depicts in detail the context, process, and design of Frame Colectivo's intervention at the archeological site of Quinta do Almaraz in 2017. It documents the creation of 5 support structures for a 2km tour path, integrating resting areas, information, and viewpoints. The outcomes are spaces for contemplation that give visitors the opportunity to explore the archaeological excavations, as well as the surrounding flora.
This publication can be used as a DIY guide, as it includes action lines for the design of multipurpose structures in wood and concrete, adapted to the local flora, between countryside and city, the private and the public, for children and adults. It is an invitation to transform spaces in search of more freedom.
To make the download of the ebook, click on the "DOWNLOAD" button. Fill the check-out form with your data and finish with the "Continue to Payment" button. Then receive your new e-book.