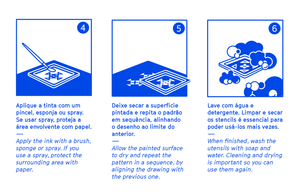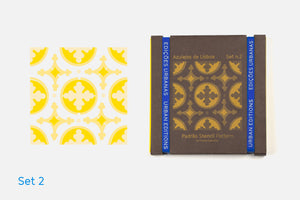 Stencil Set
STENCILING with 19th-century tile patterns to create contemporary urban art is now easy, simple, and a lot of fun!
It's the art of the tile available to everyone, using the colors you wish, in all possible combinations in a DIY form with 3 complimentary layers per set.
Applied on wood, paper, acrylic, glass, or ceramics, on the wall, floor, or textile, the Stencil Sets allow combining colors and patterns, personalizing every-day objects.
We discover that the simple white or monochromatic tile can be so much more than an ornament on the wall, when we play with patterns. We can do it and redo it, where and as many times as we want with the washable and reusable stencils sets in a sustainable way.
Challenge yourself, family, and friends and create your own unique art pieces!